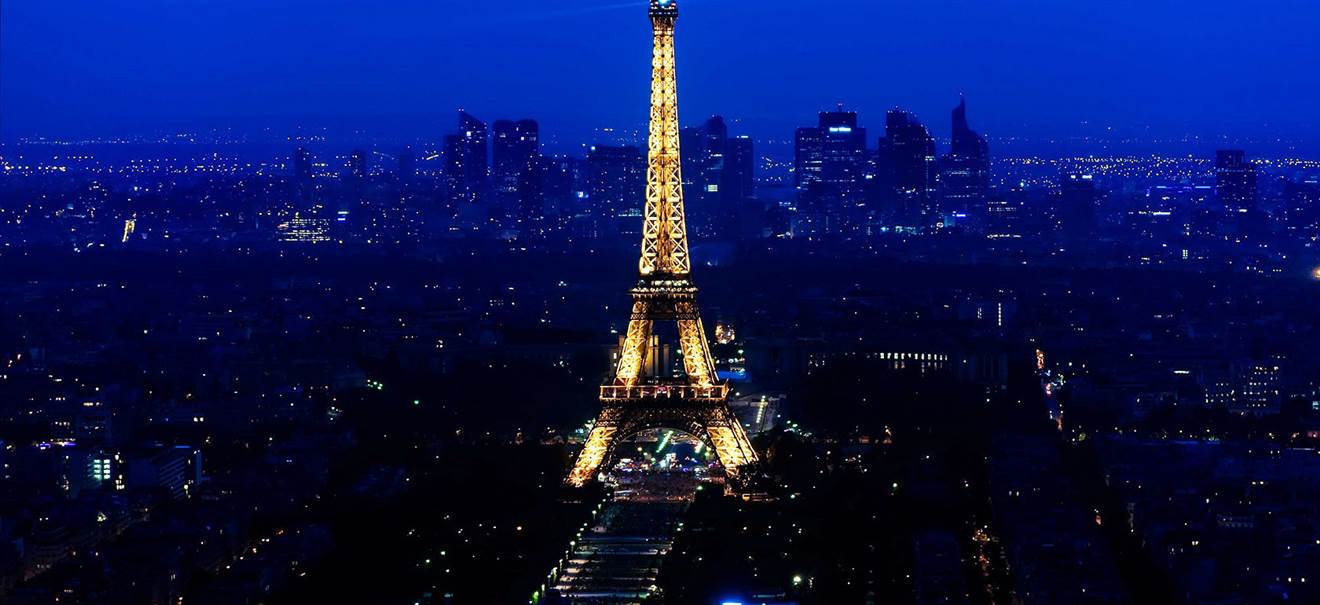 Eiffel Tower Dinner Skip-the-Line + Night Cruise
To product


A sparkling and gastronomic package!
Dinner Eiffel Tower
Take advantage of an unforgettable view of Paris from the 1st floor of the Eiffel Tower restaurant in Paris, over the monuments of Montmartre, the Invalides, Montparnasse Tower, and Champ de Mars. Have a pleasant dinner at the 58 Tour Eiffel restaurant.
"58 Tour Eiffel" Menu
Norwegian smoked salmon with mascarpone and a citrus reduction
**
Roasted chicken breast casserole, fondant potatoes and beans with a truffle oil emulsion
**
Chocolate praline crisp with crème anglaise (vanilla cream sauce)
**
Wine (1 bottle for 3 people): Bordeaux Chateau Lagorce (red), Chateau Tariquet (white) or Cotes de Provence Ramatuelles (rosé)
Still or sparkling mineral water

Important information:
The Restaurant 58 Tour Eiffel will close from the 1st of September for refurbishment, until March 31st 2020. During this period, The lunch or dinner at the Restaurant 58 Tour Eiffel will be replaced by the Bateaux Parisiens  dinner-cruise & skip-the-line 2nd floor Eiffel Tower ticket 
Seine River Cruise
Enjoy a relaxing night Seine river cruise . On board a glass-enclosed boat, you will discover the beauty of the Paris monuments and bridges all lit up : Notre- Dame Cathedral and the Conciergerie on the Cité Island; the Louvre museum; and the Orsay museum.
Commentary with individual earphones available in French, English, German, Spanish, Italian, Portuguese, Russian, Dutch, Polish, Chinese, Japanese and Korean.           
April 01, 2014 - March 31, 2015
Every night except July 14, December 31, February 14 and special events
Departure :
6.15 PM

End of the tour :
10.15 PM at the Eiffel Tower.
Included :
* Transportation in luxury air-conditioned coach
* Tickets for the 1st floor of the Eiffel Tower
* Dinner at the restaurant "58 Tour Eiffel" : 1st floor Eiffel Tower (drinks included)
* Seine River cruise in winter and summer
* The services of a multilingual hostess/interpreter
* No return to the hotels
Information : 
* A dinner on the number one Paris monument : The Eiffel Tower
* Cruise on the Seine river to discover Paris and its illuminated monuments (in summertime, the excursion could be partly operated in the daylight)
* Formal dress required
IMPORTANT INFORMATION:
The Restaurant 58 Tour Eiffel will close from the 1st of September for refurbishment, until March 31st 2020. During this period, Dinner at the Restaurant 58 Tour Eiffel  will be replaced by the Bateaux Parisiens  dinner-cruise & skip-the-line 2nd floor Eiffel Tower ticket