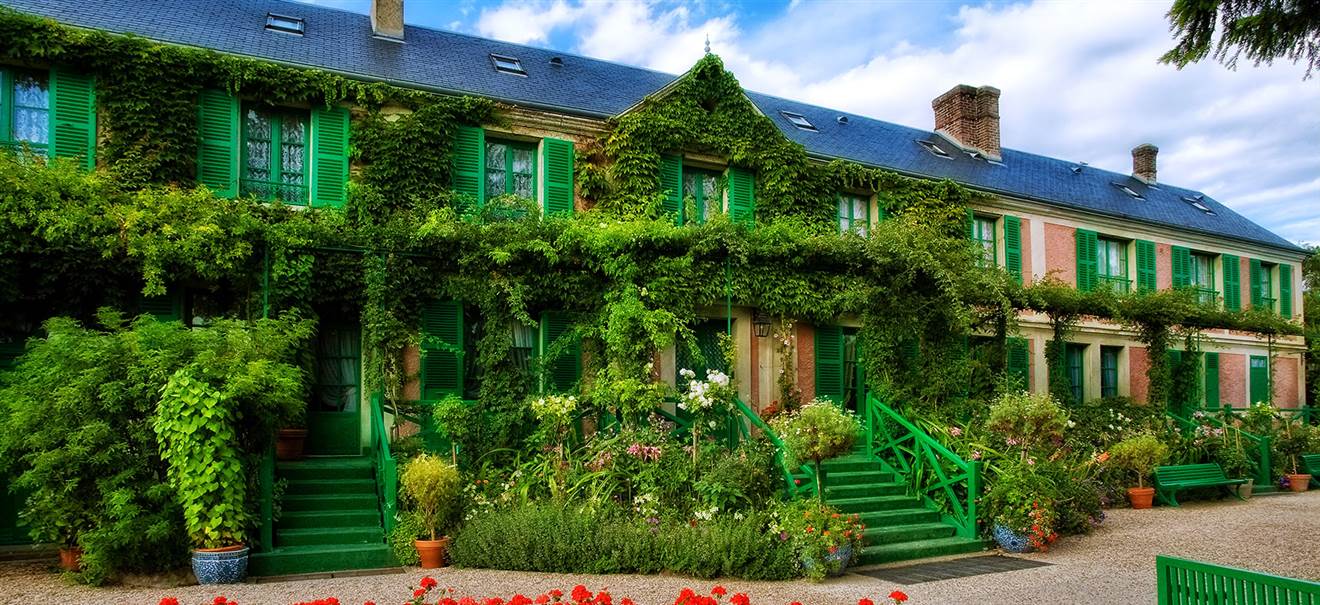 Guided tour to Giverny: Claude Monet's House
To product
Thematic Day: Claude Monet and Impressionism
Half-day excursion from Paris to visit the house and magnificent Claude Monet garden of the best-known Impressionist painter, accompanied by an official guide.
Set off from our agency in Central Paris for a unique excursion in the footsteps of the Impressionist painter Claude Monet. Admire the lush green landscapes of the French countryside as you travel by luxury air-conditioned coach to the small Normandy village of Giverny. The trip will take approximately one and a half hours. The painter and gardener Claude Monet lived there for 43 years, with his family of eight children, from 1883 until his death in 1926.
Passionate about gardening and color variations, he designed his flower garden, fruit tree orchard and water garden as if they were works of art. As you visit the gardens at Giverny, you will see the central pathway leading up to the house, bordered by different varieties of nasturtiums and roses, as well as the multicolored flower beds full of tulips, narcissi, daffodils, irises and peonies.
At the end of your visit, take advantage of the village and the pretty gift and book shop; it is housed in what was once the studio where Monet painted the huge Water Lilies canvases. It stretches for more than 3,200 square feet! The shop offers a wide range of products linked to the Impressionist's work: postcards, posters, teas, books, official Claude Monet tableware, flower seeds and plants.
Highlights
Half-day excursion to Giverny from Paris by luxury air-conditioned coach
Experience the world of Claude Monet, the most important Impressionist painter, with one of our expert guides
Guided tour of the lush gardens at Giverny: the Clos Normand Garden, blooming with flowers, and the Japanese Water Garden
Explore Monet's studio and the house he lived in for more than 40 years
Included:
Transport to and from Paris by luxury air-conditioned coach
Entrance ticket to: Giverny House and Gardens
Services of our driver-guide

Timetable
April 01 - October 31
Departure: 13h45 
Everyday except Sunday and special events
Departure: 8h15
Monday, Wednesday and Sunday except special events


Departure & Return
Address : Cityrama Agency
2 rue des Pyramides 75001 Paris


Duration:
5:00 h